Our Story
2018 marked our 30th anniversary. Our story goes back to 1988 when we launched an initiative to support the arts and artists of Jordan and the Arab world. We are today a home for the arts housed in six renovated historical buildings and warehouses, with a restored archaeological site in the garden.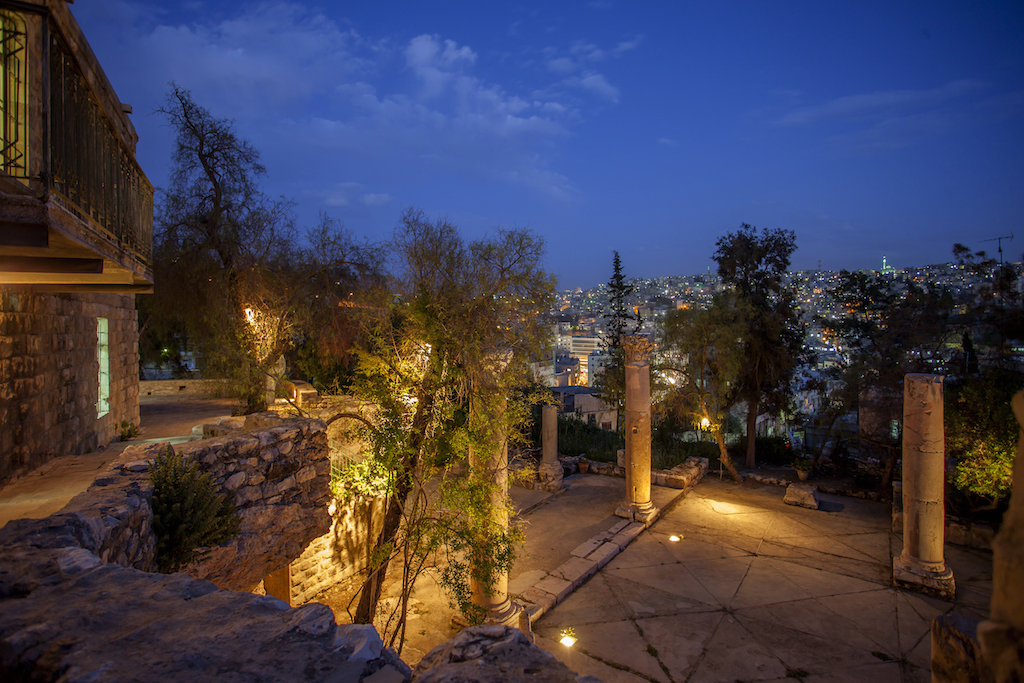 From the very beginning we played a pivotal role in hosting, exhibiting and supporting artists from the Arab world, from modern masters such as Adam Henein, Fahrelnissa Zeid, Farid Belkahia, Marwan, Rafa' al Nasiri, and Shaker Hassan al Said, to contemporaries such as Adel Abidin, Ahlam Shibli, Amal Kenawy, Emily Jacir, Hrair Sarkissian, and Mona Hatoum. Many artists had their first solo exhibition in the region at Darat al Funun.
We bring together the visual arts with other forms of artistic expression, hosting innovative performances, film screenings, concerts, and cultural events. Our vision of a home for the arts and artists from Jordan and the Arab world develops and evolves in parallel with the changing art scene of the Arab world and the needs of the artists.
This is our story.
1988-1992
In 1988, Suha Shoman took the lead in directing activities in the field of the arts at the Abdul Hameed Shoman Foundation's Scientific and Cultural Centre in Shmeisani, Amman. Group and solo exhibitions for both established and emerging artists were organized, and brought artists together. From 1990 to 1992 the late Shaker Hassan al Said, one of Iraq's most influential artists, directed a series of lectures, which were documented and published in the book Hiwar al-Fan al-Tashkily (Dialogues on Art).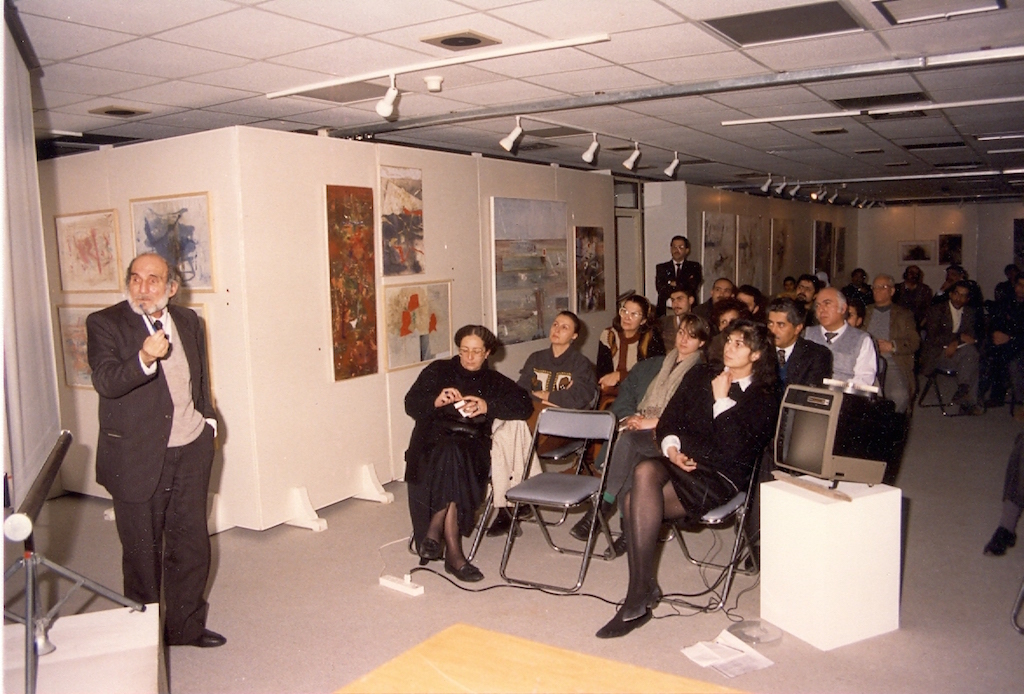 Palestinian artists who lived through the first Intifada exhibited and talked about their work, which was produced in solidarity with their people. Exhibitions were organized for Iraqi artists who took shelter in Jordan during the first Gulf war, for Lebanese artists during the 1975-1990 civil war, and for artists from the Arab Maghreb in cooperation with the Institut du Monde Arabe (IMA), Paris. The centre became a meeting place for artists, some seeking refuge from war and violence in their countries, others seeking support and exchange with fellow artists.
It became clear there was a great need for a specialized art space that was neither a museum nor a commercial gallery, where artists could feel at home, work and exhibit, exchange ideas and learn, experiment and express themselves. Recognizing the importance of patronage of art by private foundations, the concept of Darat al Funun, which means a home for the arts in Arabic, progressively materialized. Restoration on a site overlooking downtown Amman started in 1992.
1993-2002
Our first five years of experience laid the foundations for our home for the arts. Darat al Funun's Main Building was inaugurated in 1993, housing exhibition spaces, a specialized art library, workshops, and venues for the performing arts in the archaeological site. We opened with the collective permanent exhibition 50 Contemporary Arab Artists and a concert in the archaeological site by soprano Tania Nasir, pianist and composer Agnes Bashir, and performer Rania Qamhawi, celebrating the poems of Palestinian writer Jabra Ibrahim Jabra.
A second building, named the Blue House for its Circassian blue wooden porch, was restored in 1994 to provide additional exhibitions spaces and a café in the garden. A third building (now Dar Khalid) was renovated in 1995 to be used as quarters for the artists-in-residence. The grounds of Darat al Funun at the time covered 2800 square meters of terraced gardens enclosing three historic buildings dating back to the 1920s, and the archaeological remains of a sixth century Byzantine church built over a Roman temple.
We went online in 1997 and became the first website in the region on contemporary Arab art. Our exhibition program included retrospective and solo shows, as well as thematic exhibitions. A wide range of established and emerging artists from the region were shown, including Jordanian Ali Jabri (1995), Iraqi Ismail Fattah (1995) Syrian Marwan (1996), and Algerian Rachid Koraïchi (1998). In 2000/1 the series of exhibitions titled Journey through the Contemporary Art of the Arab World reflected on the evolving art scene in the region, while 2002 saw The Centenary of Jordanian-Turkish artist Fahrelnissa Zeid.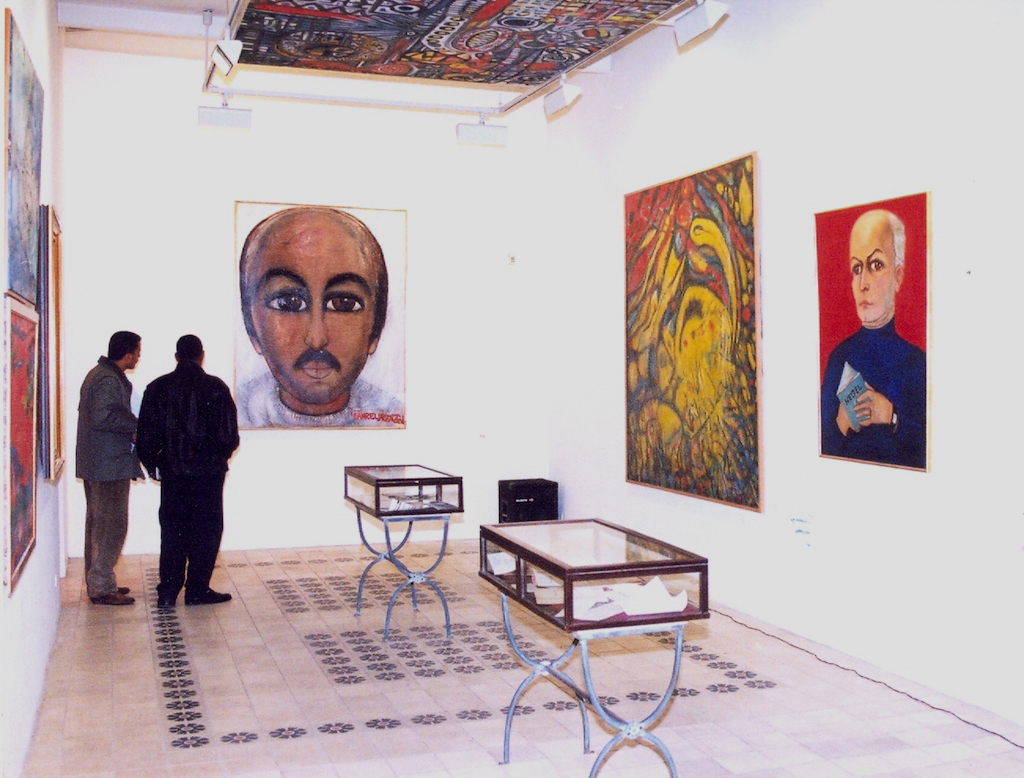 Over the years, Darat al Funun has offered a wide range of workshops, from painting, printmaking, papermaking, gilding and illumination, to photography and video art. From 1994 until 2000 we joined forces with The Jordan National Gallery of Fine Arts and housed their printing press, the first of its kind in Jordan. Rafa' al Nasiri set up and directed the printmaking atelier and gave courses in graphic art. Yearly exhibitions were organized, including 50 Years of Graphic Art, curated by Nasiri. The courses continued after we acquired our own printing press. Starting in 1995, Darat al Funun held an annual summer festival. Young artists were given a platform and were exhibited, works produced during the year in the various workshops were shown, and a range of events was organized, including music performances, poetry readings and film screenings.
From 1999 to 2003, Berlin-based Syrian artist Marwan directed our Summer Academy and conducted intensive painting courses for emerging artists from Jordan, Palestine, Syria, Lebanon, and Iraq. Over the course of four years, more than 60 young artists from the region attended the academy. In later years, workshops continued under the direction of artists such as Muhanna Durra (drawing and painting), Ziad Dalloul (painting and printmaking), Amal Kenawy (video art), Sama Alshaibi (photography), as well as Tarek Atoui (sound/noise) and Emily Jacir (with her students from the International Academy of Art Palestine).
In 2002, the third house of Darat al Funun was dedicated to the memory of our patron, Khalid Shoman, and renamed Dar Khalid. That same year, Darat al Funun came under the umbrella of The Khalid Shoman Foundation.
2003-2012
Darat al Funun started introducing artists working in new media, video art, and photography in the early 2000s. Suha Shoman's Of Time and Light (2004) was the first video art exhibition in Amman. The Wall and The Checkpoints (2006) exhibition addressed political concerns through cultural production. Individual exhibitions such as Amal Kenawy's first solo in the region (2007), Mona Hatoum's solo exhibition (2008) or curated group exhibitions such as Art Now in Lebanon (2008) curated by Andrée Sfeir-Semler, Sentences on the Banks (2010) curated by Abdellah Karroum, and Out of Place (2011) in collaboration and exchange with Tate Modern, gave a view on the role Arab artists play within the context of the international art scene.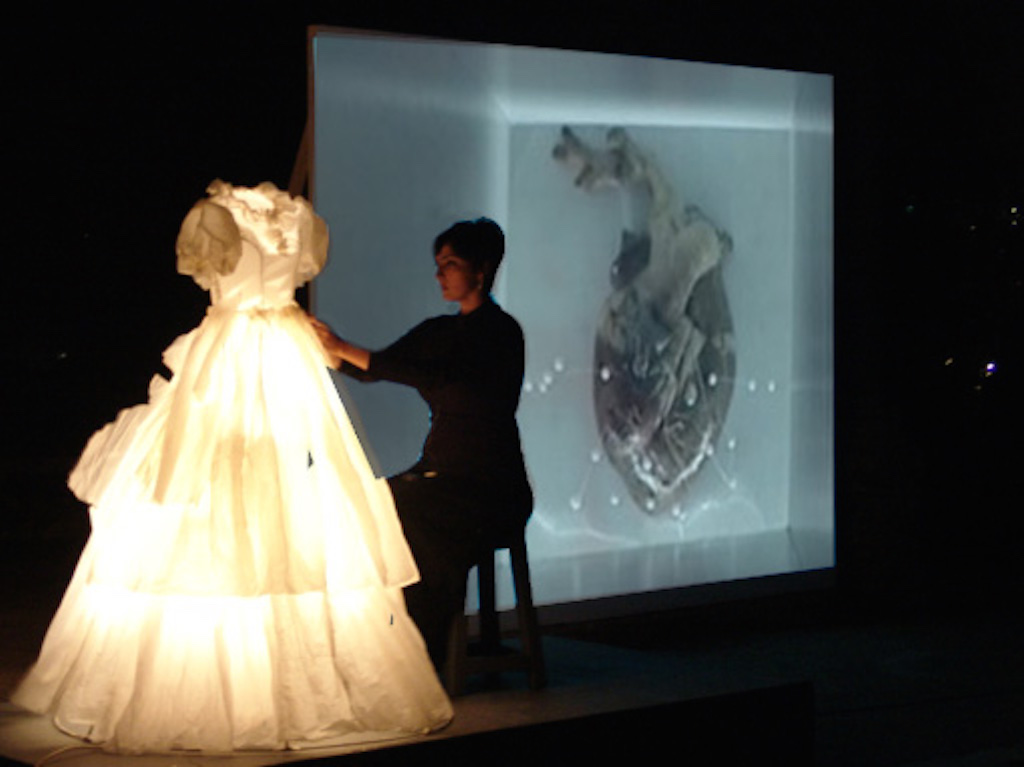 In 2011, a new expansion of 1,500 square meters across the compound of Darat al Funun was inaugurated. A fourth traditional building dating back to the 1930s was restored to house the Headquarters of The Khalid Shoman Foundation. Art works from The Khalid Shoman Collection are on permanent display in the building and working spaces are offered for researchers studying Arab art and for recipients of our yearly doctoral dissertation Fellowship for the study of modern and contemporary Arab art, the first of its kind in the region, which was established that same year.
Three old warehouses on the site were renovated to become The Lab, an experimental space and a hub for emerging artists and innovative projects, encouraging collaborative, participatory, and socially engaged practices.
2013-Now
To celebrate our 25 years of support of the arts, we invited Adriano Pedrosa to curate a residencies, talks, and exhibition program in the autumn of 2013. HIWAR | Conversations in Amman brought 14 artists from the Arab world, Africa, Asia, and Latin America to Amman for residencies, culminating in an exhibition, which also featured works of 15 artists from The Khalid Shoman Collection. HIWAR promoted exchanges between artists from the margins not solely by juxtaposing their works in an exhibition or publication format, but also by giving them the possibility to learn from each other's practices and experiences.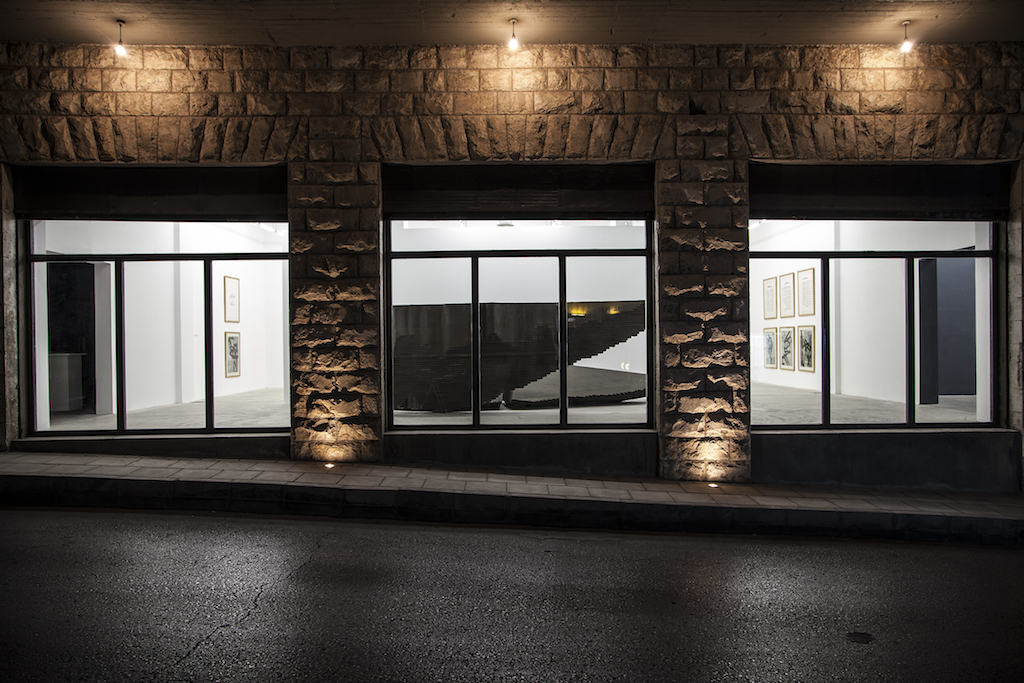 In 2013, a fifth historical building from the 1930s, called Beit al Beiruti, was renovated to provide additional exhibition spaces. Lastly, an apartment building for researchers and artists-in-residence was added to the Darat al Funun compound, adjacent to The Lab. With these last additions, the Darat al Funun compound today covers 5,196 square meters.
2013 also marked the publication of Arab Art Histories, a first of its kind publication on Arab art, with academic essays by Sarah Rogers, Faisal Darraj, Anneka Lenssen, Kirsten Scheid, Saleem Al-Bahloly, Ulrich Loock, Stephen Sheehi, and Hassan Khan, examining a range of art historical concerns through art works from the The Khalid Shoman Collection. These essays are interwoven with the personal reflections of artists, architects, and others who have lived the history of Darat al Funun, and the works by the over one hundred and forty Arab artists forming the Collection.
In 2014, we opened Caravans, the first solo exhibition in the region by Nida Sinnokrot, followed by A star is as far as the eye can see and as near as my eye is to me, the first extensive survey exhibition by Emily Jacir across all buildings of Darat al Funun. In celebration, Emily Jacir organised the workshop محليّ/ local – mahalee/لوكل with seven of her students from the International  Academy of Art in Palestine, Ramallah, who crossed the border and worked together with Jordanians artists, bringing back the dynamic atmosphere of the Darat al Funun Summer Academy led by Marwan.
In 2015 and 2016 two major back-to-back exhibitions, Rituals of Signs and Transitions (1975-1995) and Alive in the Dead Sea (1995-2015) questioned the role of art, literature, and audio and visual productions in our region in shaping our individual and collective histories.
In 2016 we also presented do it بالعربي, a regional collaboration with Sharjah Art Foundation. Co-curated by Sharjah Art Foundation Director Hoor Al Qasimi and Serpentine Gallery co-Director Hans Ulrich Obrist, do it بالعربي is a new iteration of the ongoing do it publication and exhibition project originally founded and curated by Obrist in 1993.
The year 2017 marked 100 years since the 1917 Balfour Declaration, 70 years since the 1947 UN resolution for the Partition of Palestine, and 50 years since the 1967 Arab-Israeli war. Within this context, we dedicated our 2017 exhibition and events program to showcasing the history of Palestinian civilisation and cultural heritage throughout the ages under the title Falastin al Hadara. During the year, we exhibited pioneering Palestinian artists from the early 20th century side by side with contemporary artists Khaled Hourani, Jumana Emil Abboud, and Samira Badran, and held in-depth talks on archaeology and architecture, early printed press and radio, Palestinian poets and writers, photography, and history of music and popular culture before 1948. The program is reflected in our subsequent two-language publication Falastin al Hadara.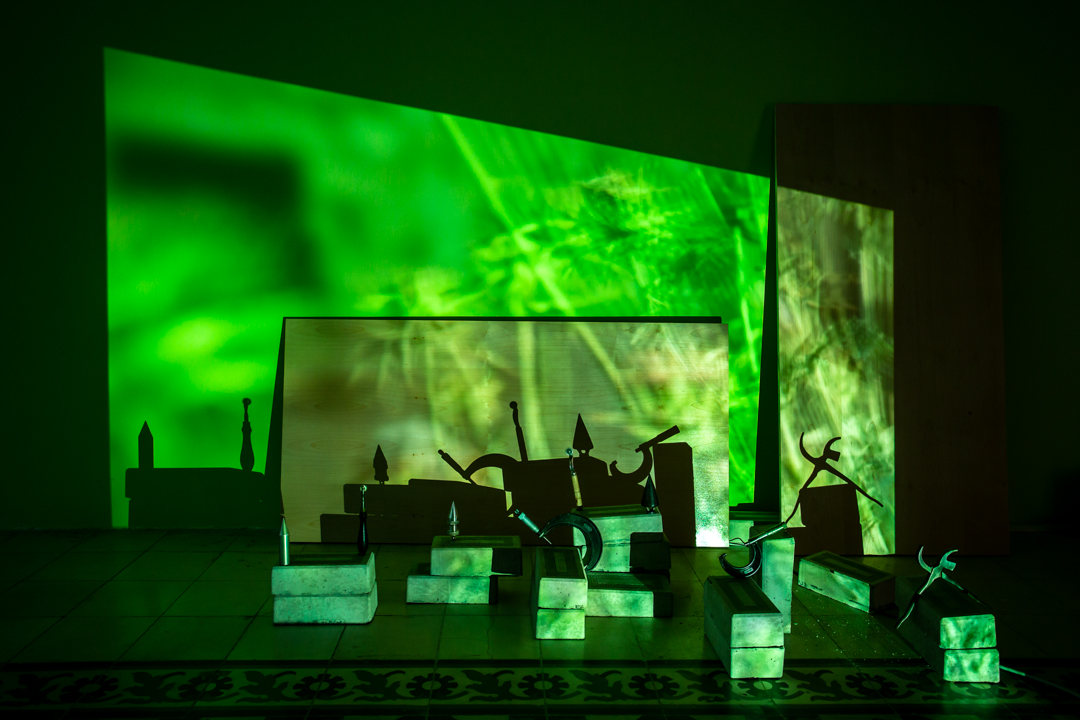 For our 30th anniversary in 2018, we invited artists of all disciplines to pause and reflect, to re-imagine our world, and to reinvent their narrative, following the challenge set by Mahmoud Darwish in his poem 'To A Young Poet':
Truth is black, write over it
with a mirage's light.
Three consecutive exhibitions held over 2018 each present different encounters between the artists of our time and their place in the world today. Featuring established artists side by side with emerging artists, the exhibitions together form a constellation of new narratives and interrogations.
As part of our celebrations, a public colloquium Knowledge Production: Examining Arab Art Today brought the Darat al Funun Fellows together in Amman for the first time to examine the ways in which knowledge about modern and contemporary Arab art is generated and disseminated. The colloquium was moderated by Dr. Sylvia Naef and Dr. Adila Laidi Hanieh and coordinated by Fellow Amin Alsaden.
Also in 2018, artist Khaled Hourani from Ramallah in cooperation with Mohammad Shaqdih from Darat al Funun curated the program "There Is a Light That Never goes Out – Darat al Funun from Amman to Palestine", including art exhibitions, video film screenings, a display of Darat al Funun's publications, and seminars, run simultaneously in four Palestinian cities: Ramallah, Bethlehem, Jerusalem and Gaza.  The groundbreaking exhibitions and events program revisited our 30-year-long relation to and support of Palestinian artists, which provided  them with a gateway to the rest of the world and became a portal into Palestine for Arab artists. Darat al Funun subsequently received The Jerusalem Award for Culture and Creativity for the Arab world.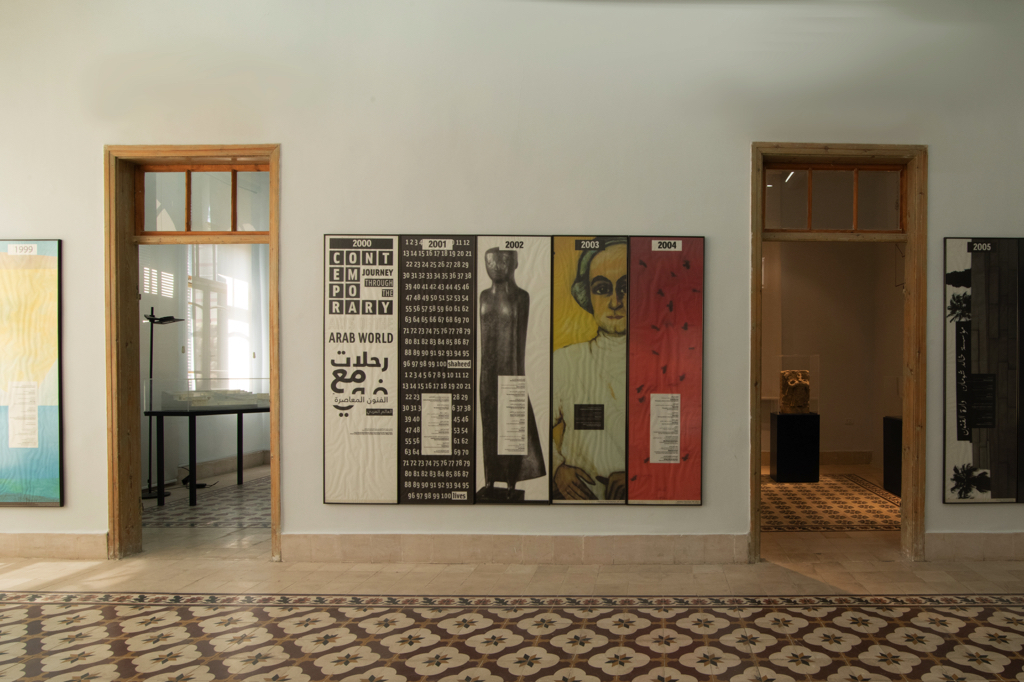 We concluded our 30th anniversary celebrations in 2018 by inaugurating at the Beit al Beiruti "The Museum: Art Architecture Archaeology", which embodies our 30 year long journey in support of contemporary arts and artists from the Arab world, and our contribution to preserving Jordan's architectural and cultural heritage.
Darat al Funun Today
Jordanian, Palestinian, Syrian and Lebanese families built the houses that form Darat al Funun. They are a living memory of the history of Jordan and the shared history of the Bilad al Sham. Darat al Funun today is an oasis for the arts overlooking the crowded downtown area of the old city of Amman. Along with visiting our contemporary art exhibitions, many come to admire Amman's traditional architecture, attend events in the archaeological site, read a book in our art library, or take a walk in the gardens.
Darat al Funun actively pursues its mission in providing a platform for contemporary Arab artists. We support art practices and artistic exchange. We stimulate critical discourse and research. Visiting and artists-in-residence produce and show their work. Academics and artists give talks or workshops. The Lab is open to projects by emerging artists. We program educational activities for young people and students. Our art library, publications, films and digital archives are open for research and documentation.
Back in 1988, establishing a home for the arts was a challenge, to say the least. By salvaging and restoring abandoned traditional buildings and antiquities, with all the history they hold, Darat al Funun contributed to preserving Jordan's architectural and cultural heritage. By rehabilitating them and dedicating them to contemporary arts, Darat al Funun brought together the old and new, past and present, tradition and modernity. Darat al Funun today is a living place celebrating the arts at the heart of our culture.